Warsaw Return #2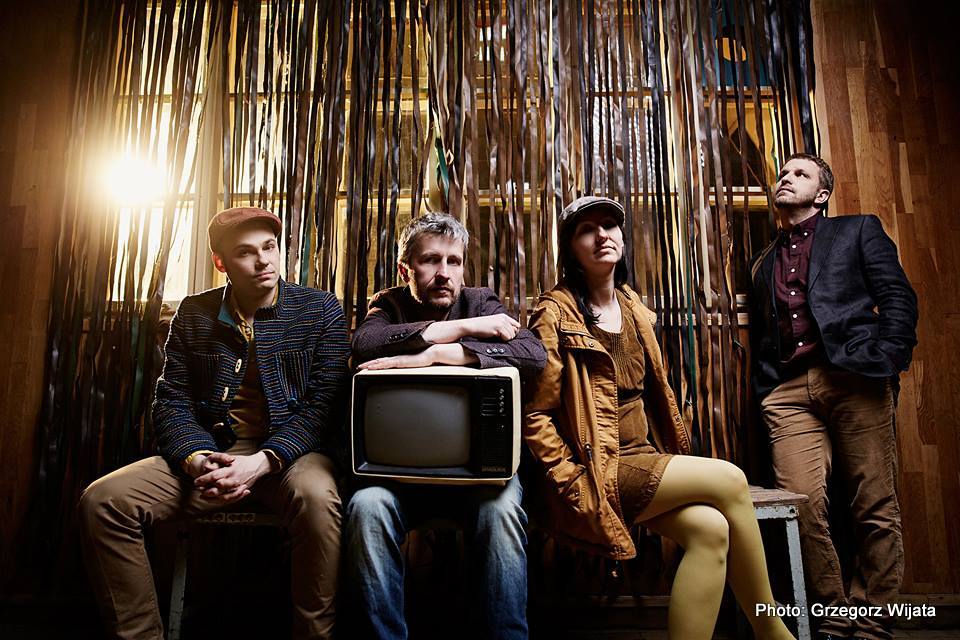 Maciej Szajkowski (Warsaw Village Band) says: 'Just when you think you've seen everything in folk music, you come across a band like Odpoczno.'
But could it be quite the opposite? When you know absolutely nothing about Polish folk music, you come across a band like Odpoczno. And the show begins…

I had the chance to hear you playing in Wrocław this spring at Jazz nad Odrą – a well-known jazz festival in Poland. However, some people from the audience started dancing traditional folk dances to your tunes. How did jazz and folk merge together in your sound? How do you identify your music?

As funny as it sounds, we are not sure how to define our music. Recently we've heard a new term – 'avant folk' –  and perhaps this is the most accurate description of who we are. Each one of us has a different experience: Marek (guitar) is an outstanding jazz musician, skillful in improvisation, Piotr (drums) is connected with an alternative rock music and contemporary improvisation, Asia (vocal, cello) and Marcin (violin) already for some time had been exploring traditional music in its grassroot in crudo version. We put all these ingredients to our performance, but at the same time we keep a special focus on saving the original spirit of the music we learn from old folk masters. The first 'in crudo' version is therefore a base upon which we build our music. We find it crucial to maintain a typical triple time rhythm of oberek - the rhythm makes it possible to dance in traditional way even during the wildest improvisation. In consequence, our music retains its playful character, the same which we find in original folk standards which are centuries old. This is the way we try to connect "the old" and "the new" or 'the past' with 'the future'. We often find out, sometimes to our own surprise, that the combination works really well. That gives us a truly enormous satisfaction.

When I googled the name of the band: Odpoczno, I got the search suggestion: Opoczno - a city in South-Central Poland. How are you connected to the city/area? Tell us about the band's name.

The band's name is related to a town of Opoczno in central Poland, the home town of Marek Kądziela, our guitar player. Marek gave us the impulse to explore traditional music particularly from his region. A the same time the name 'Odpoczno' is a Polish pun, referring to a word 'odpoczywać', which literally means 'to relax'. And hence the group's name is ambiguous, it is a funny game of meanings and associations.

As I know the simplest Polish village band consists of violin, bass and drum. It seems you 'just' added an electric guitar, a snare drum and a cymbal on this lineup, and feels like you kept the pure voice of the traditional songs and music, but turned it into a fresh contemporary sound. What was your concept?

First of all, we put a special attention to preserving the spirit of a traditional music. We believe that the traditional music is interesting as it is, without any changes. If listened to with diligence it reveals its unique character, which could be even compared to the one of a contemporary music. It is quite common for musicians to just 'pick up' from the tradition only some parts of it. For example, one could take just the line of melody, and then remodel it by adding some oriental rhythms or with swinging improvisation. That is the opposite of our approach. Our method was, first, to learn the melody in crudo by heart, learn its sound, scale and of course the rhythm. Only after then we started adding some new elements and create our own arrangement – such an arrangement that would not blur the original message. The most difficult part was the one of a guitar. The guitar is absent in Polish music, therefore a brand new language if improvisation had to be created. The percussion, on the other hand, became widely accepted in traditional music already in the 1960's, when very simple percussion sets, similar to those used in early Polish jazz bands and accordingly known as 'dżaz', started to be popular across the Polish villages.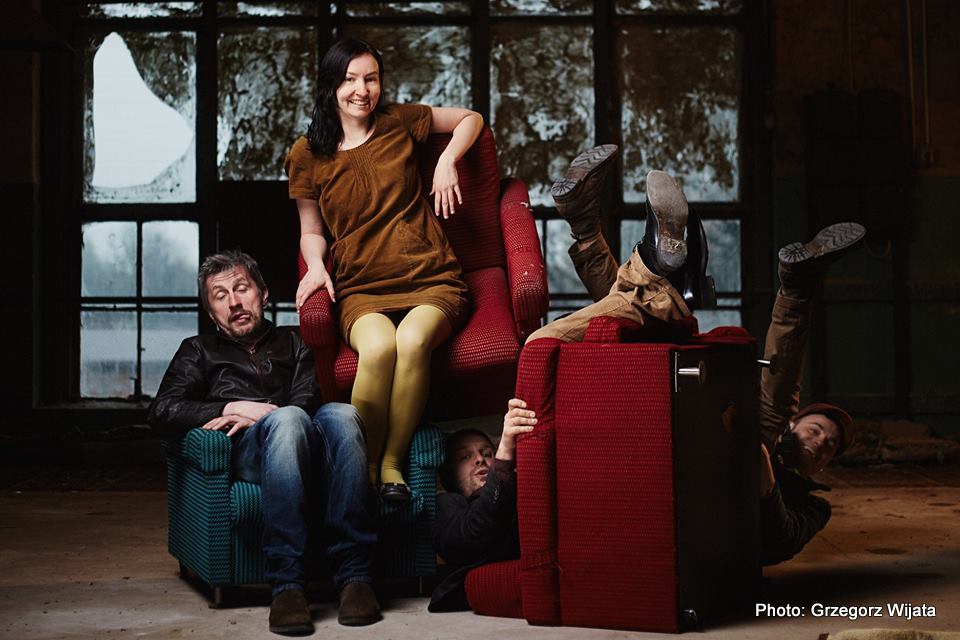 Marek Kądziela has graduated from the Carl Nielsen Academy of Music in Denmark as a jazz guitarist and composer. He is considered as one of the most outstanding polish jazz musicians, having received plenty of national awards. He cooperates in international music environment and has performed with outstanding musicians like: Kasper Tranberg, Steven Bernstein, Adam Bałdych, Michał Urbaniak, Piotr Wojtasik, Leszek Możdzer, Piotr Baron, Maciej Obara...
web: www.marekkadziela.com

Joanna Gancarczyk and Marcin Lorenc as members of the band Kapela Kożuch play traditional polish dance music from regions around Łódź. They collect music and learn from old masters and also work from archive materials. To an older traditional lineup of violin, bass and drum they recently added trumpet - an instrument that has appeared more often in the region's village bands in the last few decades. They are grand prize winners of the 'New Tradition' Festival, besides participating in other music competitions in Poland.
web: www.facebook.com/kapelakozuch

Piotr Gwadera - drummer and improviser - is a well-known member of the music scene of Łódź. He plays in many bands, co-operated with renowned musicians like Steven Bernstein, Marcin Masecki, Eugeniusz Rebzda, Jerzy Mazzoll, Tymon Tymański and Antoni Gralak. He participated in several music projects from the borderline of jazz, rock, experimental music and contemporary dance. He performed and has been awarded at the most important Polish festivals, and has also attended numerous foreign ones.
web: www.piotrgwadera.com

Winning the third prize in Nowa Tradycja Festival in 2015 was an important milestone in the band's life. Tell us about the festival! What do you think about the term 'new tradition'?

'New Tradition' Festival is one of the most important events in the calendar of Polish folk scene. The 3rd prize we got in 2015 was a milestone in our career and our first official performance. The term 'New Tradition' might sound like an oxymoron but in fact it depicts the situation in which we find ourselves with quite an accuracy. We try to revive the old tradition which slowly passes away, and we do that by creating new tradition – different from what was before but simultaneously deriving from the past.

From that point you performed all around Poland. How was the reception?
In Hungary the audience of jazz and folk music is relatively separated. How about the audience in Poland?

Jazz and folk constitute separate scenes also in Poland, although there are fans who are interested in both genres. It is also increasingly popular for jazz musicians to draw an inspiration from traditional music. In 'Odpoczno' we are lucky to cross freely these lines of division.


You set a video clip and recorded an EP in the fall of 2017. In March 2018 you released your first CD, and another huge milestone was just announced in August: you are going to attend WOMEX this year. You have a busy year behind…

Last year was indeed a very busy year for us. Apart from our engagement in 'Odpoczno' we take part in other music projects. In addition,  some of us perform also a regular job, and there should be some time for family and friendship too. All of that is sometimes difficult to cope with. Anyway, we are happy to deal with what's life's giving to us...

And what is ahead? WOMEX will certainly open the borders. What are your plans and expectations?

For the moment we concentrate on giving a good performance at WOMEX, and hope for an opportunity to play our music abroad more often in future. In winter we are about to start working on the material for the next album which we would like to release by the end of 2019. This would be it, so far. The show is going on.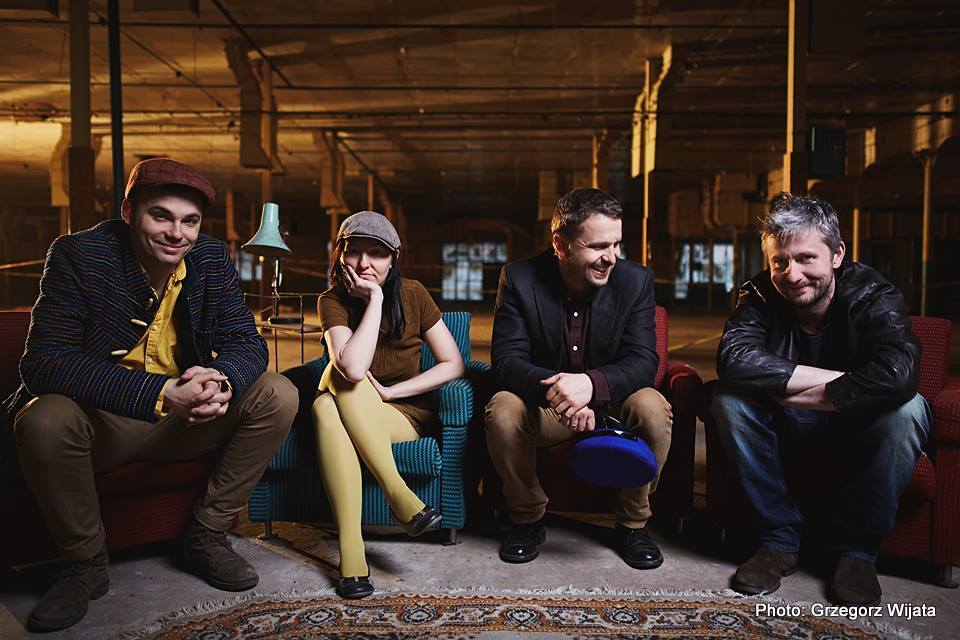 Zsófi Lázár
More  Warsaw Return articles here
photos from: facebook
A bejegyzés trackback címe:
Kommentek:
A hozzászólások a vonatkozó jogszabályok értelmében felhasználói tartalomnak minősülnek, értük a szolgáltatás technikai üzemeltetője semmilyen felelősséget nem vállal, azokat nem ellenőrzi. Kifogás esetén forduljon a blog szerkesztőjéhez. Részletek a Felhasználási feltételekben és az adatvédelmi tájékoztatóban.