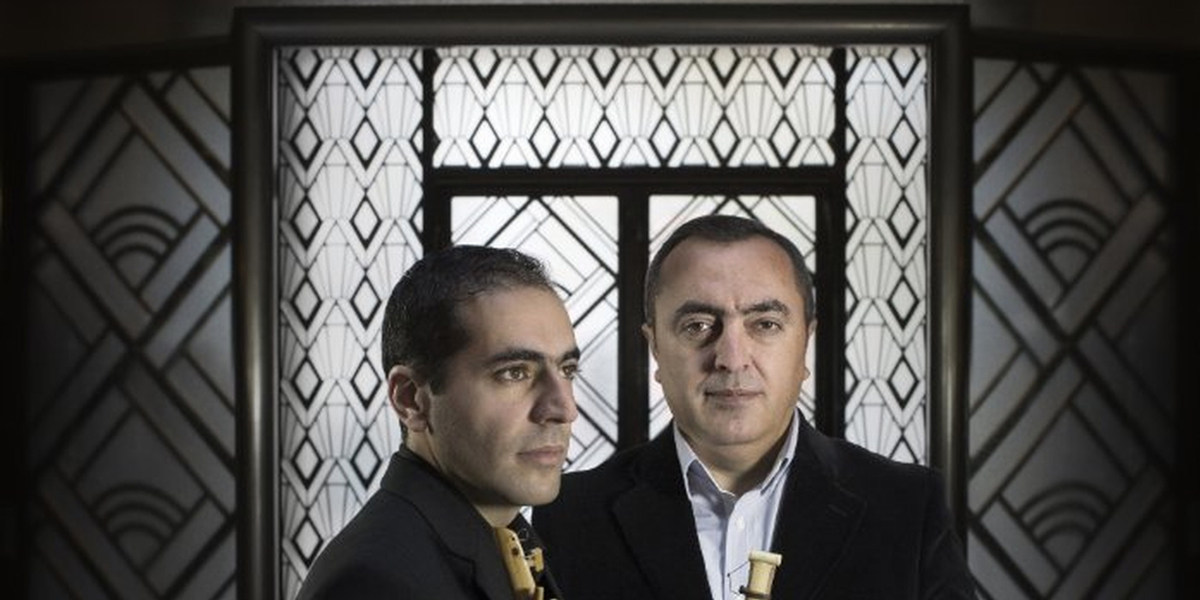 The audience will have the opportunity to listen to two relatively new, unique cross-border productions in Budapest Folk Fest. We talked to Lynn Dewitte, the label manager of Muziekpublique about the Vardan Hovanissian&Emre Gültekin duo (Fono Music Hall, May 25/Saturday) and the Refugees for Refugees Ensemble (Hungarian Heritage House, May 23/Thursday).
- Would you please say a few words about Muziekpublique. What are your mission and goals, how would you describe the musical and cultural milieu in Belgium?
- Muziekpublique is a bilingual non-profit organization based in Brussels whose main objective is the promotion, preservation and representation of traditional music and dance from all over the world. Its activities are developed through an ambitious programme of world music concerts throughout the year, the World and Dance Music Academy and a label that oversees professional music projects (recording, booking and artist management). It carries out in-depth in-depth work to provide a stage for talented artists representing musical cultures from around the world and to destigmatize cultures through music. It also provides a framework and support for artists to keep their music alive and enable them to act as intercultural mediators, fostering sociability in the multicultural context of Brussels. Muziekpublique is also a citizen movement that integrates and mobilizes people who want to share its values and philosophy.
- I find Vardan Hovanissian and Emre Gültekin's cooperation really interesting, because they managed to create something common on a cultural crossroads. From a Hungarian perspective Armenian and Turkish music cultures are really close to each other, but how does someone see it who, through her vocation, is closely connected to them. What kind of differences do you see?
- Armenian and Turkish cultures have their specifities and a heavy historical background. Despite the links between these traditions, relations can be complicated. But music is a way to overcome barriers, build bridges and mutual understanding by showing the links in their musical cultures. That is what Muziekpublique tries to foster and it's the message of the musicians are spreading through their friendship and work.
- Both 'Adana' and your second album 'Karin' referred to the tragedy of the Armenian Genocide. Has this caused any political or other conflicts after the realese of the albums?
- Not explicitly but the project carries values and messages that may not be well received by everyone in these communities.
- The collaboration between the two musicians is very symbiotic. How they found each other, and how do you see, what is the key to approach their music, why duduk and saz sound so good together?
- The strength of the musicians in this band is their open-mind and their will to represent their musical heritage without building barriers. Their music is about transmitting emotions through their instruments.
- What is the story behind the Refugees for Refugees? How was this ensemble formed, who are the members?
- The group called Refugees for Refugees is the fruit of a meeting between traditional musicians who arrived in Belgium as refugees and the association Muziekpublique, a world music center based in Brussels. Fleeing the disasters of their regions of origin, threats impelled them to leave what was once a wonderful land and leave behind them an essential heritage, but taking away with them their knowledge and their instruments.The project began with a CD that Muziekpublique wanted to produce. It was a time when we heard about refugees a lot in the media and we wanted to counterbalance the political discourses of fear that tries to put people against each other. It makes no sense to us. So we gathered these talented musicians arrived in Belgium from different places and together we wanted to convey a positive message, which emphasizes all cultural wealth and talent they carry with them. After the release on this album, they received a lot of demands for concerts. They toured during two years and from that human and musical experience emerged a new repertoire. Their new album Amina (2019) writes a new chapter in the Refugees for Refugees story.  It represents reconstruction, the fresh energy needed to map out a new trajectory after being uprooted.
- As you mentioned a new chapter has arrived to the ensemble's life. What has happened since the first album?
- After bringing out their first album, Amerli, in 2016, a number of the musicians and the organization Muziekpublique decided to continue the adventure via a number of concerts to keep alive the commitment at the heart of the project. Step by step, they learned the codes of the different traditions represented and have been able to build a new repertoire at the crossroads of their cultures.
- We can listen to excellent musicians in this project. Do you think that this musical quality and the commitment to your own culture and to multiculturalism can bring peace to the world? Is it possible fight for peace with music?
- That's what everyone involved in the project believes. The commitment they want to defend is not so much political but more about the humans and how they can bind to each other through music.
- What can the audience expect from the Hovanissian&Gültekin duo and the Refugees for Refugees in Budapest Folk Fest?
A rich palette of musical colors and sincere emotions and generosity!
A bejegyzés trackback címe:
Kommentek:
A hozzászólások a vonatkozó jogszabályok értelmében felhasználói tartalomnak minősülnek, értük a szolgáltatás technikai üzemeltetője semmilyen felelősséget nem vállal, azokat nem ellenőrzi. Kifogás esetén forduljon a blog szerkesztőjéhez. Részletek a Felhasználási feltételekben és az adatvédelmi tájékoztatóban.